10 HOUR GUITAR BUILDING CLASS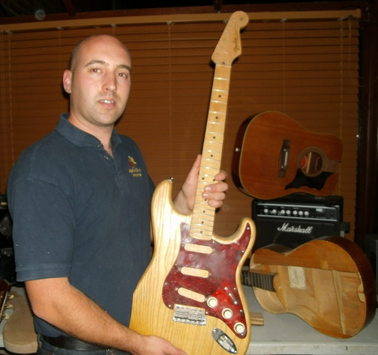 Have you ever wanted to build your own guitar or bass guitar?
Tom's Guitars offer a wonderful guitar building experience for those who would like to build their own electric guitar / bass guitar.
Our Guitar building class starts at 8:30 am and finish at 6:30 pm
By The End Of The Course You Will:
> Understand how your guitar is constructed
> Have hands on experience
> Be familiar with luthier tools and how to use them
> Have had all of your guitar building questions answered
> Understand better what you will need to do personally and practically to build at home
> Have notes to take away and use
> All hard wear is of the best quality GOTOH you can buy.
> All bodys are 3 piece Alder and the necks are one piece maple or with a rosewood board.
> Have made a fully working high quality 6 string / 4 string electric to take home
One To One Guitar Buiding Day At Your Home
Our one to one class means we come to you.
You pre choose your guitar you would like to Build.
"Stratocaster / Telecaster / P- Bass / J-Bass"
We supply all luthier tools / work table / equipment for the day.
We need you to supply access to a plug socket and room to build in.
Your guitar can be built by yourself and one other if you wish.
If you feel more comforable using your own tools, you are welcome to bring them along. List at the bottom of the page.
You need to supply your own Pen and Paper to take note's.
Bring a camera to take loads of photo's.
Term's and conditions
Please understand with our Guitar building classes we have a deadline to have your guitar working by 6:30pm.
We understand some people work faster than others and some people will need more attention than others. We are fully trained luthiers and are there to support you all the time.
We give very clear instructions when drilling holes and when using a soldering iron. You use all the tools at your own risk. You are totaly responsible for your own guitar.
Tools you will use
Hand Drill, Soldering Iron 24v, Nut Files, Fret Files, Leveling Block's, Straight Edge, Spanners, Wire Cutters, Wood / Metal Files, Screw drivers, Dremel, Glue, Tuners, Multimeter, etc
What you are paying for!
You will have a hand built custom guitar of your own choice.
Much more love and care will go in to your hand built guitar, unlike buying a custom guitar from a shop where it has been mass produced on a daily basis on a big scale with no real setup.
We come to you and supply all tools and equipment.
The guitar will be setup to suit your playing type and to the gauge of string you feel most comfortable with.
You get a fully trained Luthier for the day.
No need to do months in a guitar college to learn guitar building and full setup's.
Any guitar building day that takes place outside of 100 miles from (POST CODE) "TN16" we do charge a small commuting Fee.
Please understand you need to book 5 - 6 weeks in advance as this is a very popular service, This also gives us time to get all you hardwear and parts together.
Great Birthday Gift / Christmas Gift
Total for day is £1,100.00
When booking we take a payment of £800.00 deposit or you can pay in full.
The outstanding balance must be paid in full two days beofore the event.
E.Mail or phone for more details.